Now: The West Caribbean.
2016: Another short season - but short season is much better than no season!
We shall be sailing to a few places in March, then return to Shelter Bay and store "Tatt av vinden" for the next hurricane season.
Our best videos:
With speed boat into the IGUAZU Waterfalls - February 2014!
and:
Hiking to CIUDAD PERDIDA (The Lost City)
You may follow us on our blog and in the Pictures section..
Last general update: 19.01.2016
Our sailing season 2016 is comming close.
2016 part 1: Shelter Bay (Panama) to Providencia (Colombia)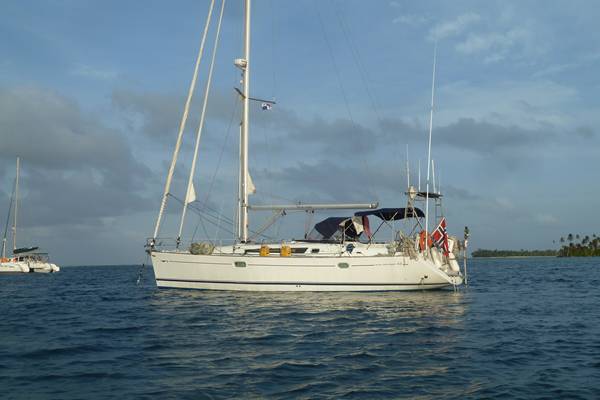 "Tatt av vinden" in Guna Yala.
Let's Go With the Wind!
S/Y "Tatt av vinden" is our boat. The name means "Gone with the Wind".
In 2013 we sailed "Tatt av vinden" from Oslo to Las Palmas and crossed the Atlantic to St.Lucia, where we arrived in December. This was our second ARC and the third crossing of the Atlantic.
In January 2014 we cruised the Lesser Antilles. In February and the first week of March we traveled South America. After that we cruised the Lesser Antilles and and the Spanish Virgins in Puerto Rico. Then to Bonaire and Curacao. Next season we sailed to Santa Marta, Colombia. After four weeks in Santa Marta we sailed to Guna Yala (San Blas, Panama). Now "Tatt av vinden" is in Shelter Bay.
In the middle of February Bjørn will go to Panama to prepare "Tatt av vinden" for this season. At the end of the month Eva will join him for the sailing.
If you want to comment on our blog, you should write to: blog(at)tattavvinden(dot)com. Then we will put the comment in the blog as soon as possible.